7 Tips to Safely Reopen Your Gym
Back in April, the U.S. government released guidelines for reopening America following the outbreak of Coronavirus. And as part of Phase One, gyms are allowed to reopen, along with sit-down restaurants, movie theaters, sporting venues and places of worship, as long as they follow "strict physical distancing and sanitation protocols." With plenty of people eager to get back to their exercise routines and make up for lost time, many gym owners are wondering how to reopen your gym safely during the Coronavirus pandemic. While there are no hard-and-fast rules, we're here to help you navigate some of the gray areas and help keep your staff and members as safe as possible.
Of course, even with stringent guidelines in place, COVID-19 is an extremely communicable virus, so there's no way to guard against it 100%. But having some safety precautions in place can help you safely reopen your gym. Even though we won't be able to jump right back into the highly social environment that gyms used to be, with workout buddies and shared amenities, you can still give guests a great experience (and, most importantly, a safe one).
1. Require staff to wear masks and gloves.
Wearing masks and gloves isn't mandated by the government at this time, but it's an easy adjustment to help prevent the spread of Coronavirus – especially in pre-symptomatic or asymptomatic individuals who may not know they're carriers. Gloves offer an extra layer of protection from high-touch surface areas, while masks provide some protection against airborne particles. When combined with other preventive measures, like social distancing, masks and gloves can be effective in slowing the spread of the virus.
As for gym members, it's a good idea to recommend mask wearing except in cases of intense physical activity, when a mask might make it more difficult to breathe properly. You can provide disposable masks as a courtesy for your guests or recommend that they bring their own disposable or cloth masks from home. It's important to note for both staff and members that wearing a mask and gloves is not meant to be a substitute for social distancing, so proper distance should still be maintained at all times.
2. Position workout equipment farther apart.
On the subject of social distancing, a lot of the measures you can take to safely reopen your gym involve keeping members at least six feet apart from each other. Strategic retooling of floorspace can make this much easier. Space exercise machines farther apart or stagger their use by limiting guests to certain machines. Don't rely on guests to know how far apart six feet is – instead, help them stay safe with clear signage and indicators. With properly distanced machines, everyone can enjoy a little extra peace of mind during their workouts. Plus, you'll minimize the need for staff to enforce social distancing rules.
3. Limit occupancy in the locker room.
We recommend keeping a team member onsite at each locker room to oversee its capacity. By limiting the number of guests in the locker rooms and/or marking off specific lockers for use ­– every sixth locker, for example – you can help guard against close contact. The same applies to showers, too. You'll want to have clear guidelines posted regarding spacing for showers and, if necessary, close off certain showers to maintain distance.
4. Modify gym hours to allow time for proper disinfecting.
Even if you have your team cleaning regularly throughout the day, it might make sense for you to close your facilities for an hour during the day (i.e: from 2-3 p.m.) to reset and do a more thorough clean. During this time, be sure to focus especially on frequently touched surfaces like doorknobs, countertops, free weights, chairs, restrooms and shower/locker room facilities. Don't forget to always use EPA-approved disinfectants!
5. Consider restricting certain amenities and classes.
There's no avoiding it: Going to the gym is not going to be the same as it was prior to the start of the pandemic. As we adjust to the "new normal," it might be necessary, unfortunately, to keep popular amenities – like saunas and tanning beds – and classes closed for the time being. That said, we know that guests really look forward to classes as a fun way to stay in shape. One option you might consider is to offer virtual classes that guests can participate in from home while they wait for their favorite sessions to resume. You could also restrict class participants to a percentage of their regular capacity so that everyone has plenty of space to spread out.
6. Mark pathways clearly with 6-foot markers.
At areas like check-in, scales and cleaning stations, place clear 6-foot markers on the floor. These act as a gentle reminder to avoid crowding as guests wait, since these are areas people tend to gather. Again, don't expect that people know how far apart six feet is. With clear indicators, you aren't leaving safety best practices up to guesswork.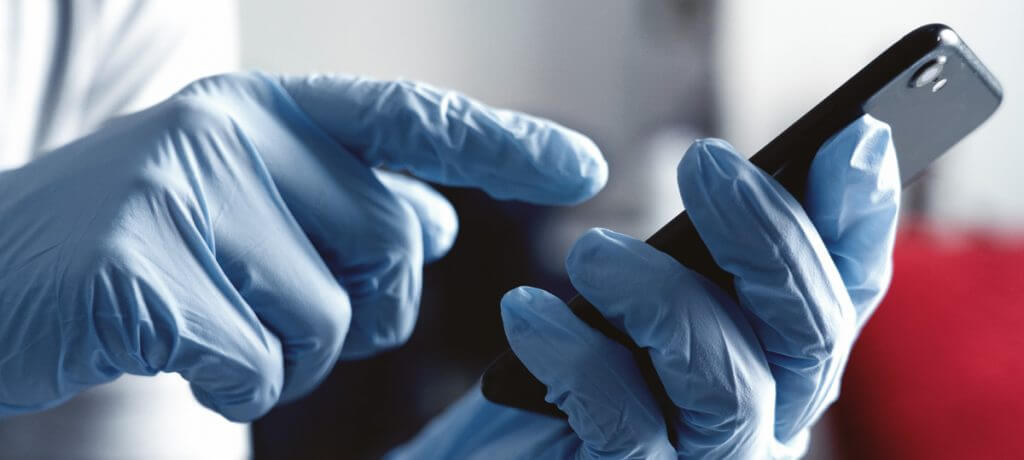 7. Ensure vigilant cleaning with the new Radianse task-scheduling app.
Did you know that Radianse recently launched a task-scheduling app that can help you safely reopen your gym? Created out of a need to oversee proper cleaning throughout the many areas of a gym, ensuring that each was thoroughly disinfected, it helps keep team members on top of their tasks and accountable.
Best of all, the user experience couldn't be easier: It's available for iPhones and Androids, on any smart phone or tablet device. Assign cleaning schedules, create checklists, delegate tasks and run reports all from your fingertips with a few simple steps. It's just one more way Radianse stays in step with your fitness IoT needs! There are already a number of gyms using it to organize their cleaning schedules and make sure they're meeting the compliance standards. For more information, get started with our quick introduction guide.
As you get ready to reopen your gym, studio or other fitness facility, we hope these seven tips help you do so safely. The changes might take some getting used to, but these small steps will go a long way in helping to keep everyone healthy and safe throughout the Coronavirus outbreak.
We encourage you to check in regularly with resources, including the CDC, for official statistics and recommendations.