April 19, 2016 – Radianse Announces a New Attachment Process for Inmate Tags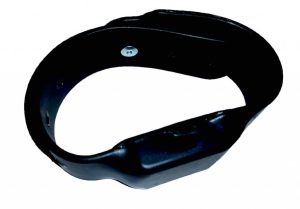 Radianse continues to lead the way in real world understanding of the corrections environment  with the announcement today of a new option for attaching the Inmate Bracelet.  We have traditionally offered either a rivet process using a swage tool, or a wristband clamp with security screws.  This new option utilizes a bind rivet that streamlines the process by shortening the time that it takes to attach a bracelet while maintaining the strength of the connection.  By offering this option, Radianse now gives Correctional Facilities 3 attachment choices, allowing them to use the method that works best in their specific environment.
"We listened to feedback from our clients and have been able to transform that feedback into a solution that gives them flexibility,"  said Chris Allen, Director of Sales at Radianse. "Different correctional facilities have slightly different needs.  Those that have high numbers of intake and release on a daily basis call for a clasp that is quickly and easily removed by staff.   Those that house for longer periods of time may be more concerned with long term durability and overall cost of the attachment method.   Radianse has developed three separate methods that we believe will meet the needs of all correctional facilities no matter what their needs are."
About Radianse
Radianse is the leader in providing intelligent solutions that automatically integrating an ever expanding list of data sources into real-time actionable intelligence.  By providing answers to the "Five W's", Radianse is able to assist today's dynamically changing industries in areas ranging from location awareness, patient satisfaction, inmate rehabilitation, safety, customer service, to green initiatives in the fitness industry.